2018 Annual Meeting of Shareholders
Attention Shareholders. Your vote is extremely important. Vote on the YELLOW Proxy Today to Protect the Value of Your Investment.

IMPORTANT MESSAGE TO SHAREHOLDERS
Dear DAVIDsTEA shareholder:
Your vote at the June 14, 2018 meeting of shareholders of DAVIDsTEA has never been more important. Your vote will determine the path forward for the company and your investment. You have a choice between two differing futures:
DAVIDsTEA's renewed board and current management team who have a positive vision for the future that includes innovative initiatives to enhance value for ALL shareholders
or
Herschel Segal and his status quo plan which risks stalling DAVIDsTEA's progress
Promising Future with Current Management and Renewed Board
Your company has a promising future. This is something we – the DAVIDsTEA Board of Directors, management, as well as co-founder and dissident shareholder, Herschel Segal – all agree on. To realize this promise, DAVIDsTEA must adapt to new challenges in the retail industry and meet the evolving expectations of our customers in order to sustain this progress. The status quo is not an option.
To this end, the DAVIDsTEA board and management have established a vision for your company anchored around four key pillars, all of which are rooted in data-driven customer perspectives and a deep understanding of what it will take to succeed in the future of retail:
Investing in e-commerce , which is a core part of DAVIDsTEA's ambitious plan to grow online sales.

Refocusing on merchandising and marketing to improve our service offerings, leverage our learnings and key customer insights from the past year to rebuild our product assortment, and drive new business.

Leveraging our strong brand to drive sales through wholesale channels and international opportunities.

Building a profitable store network by focusing on improving the productivity of existing stores and evaluating the closure of non-performing stores.
This is the future of DAVIDsTEA.
To execute on the go-forward plan, your company needs stability and sound guidance from a board of directors that brings the right experience and expertise and that provides a strong, dynamic new management team with the time and freedom it needs to realize the vision for the future of your company.
Mr. Segal, through his holding company, Rainy Day Investments Ltd. (RDI), is proposing an alternative slate of directors that, in addition to giving him effective control of DAVIDsTEA, represents the status quo. We believe this would be a step backward for your company.
While we believe that Mr. Segal, as a 46% shareholder, is entitled to proportionate representation on the board, allowing Mr. Segal to take over the entire board with his handpicked slate as well as the title of executive chairman would permit him to run the board and the company like a family business. This would not serve the interests of all DAVIDsTEA shareholders. Who will represent the interests of ALL shareholders?
Large Shareholders Express Concerns About Mr. Segal's Actions
We are not alone in our concerns. Three of DAVIDsTEA's largest shareholders – Porchlight Equity Management, LLC (12.8%), TDM Asset Management PTY LTD. (12.2%), and Edgepoint Wealth Management, Inc. (11.5%) – have independently expressed their concerns with RDI's actions and stated they had "serious concerns with RDI's current approach and proposal". In a March 28, 2018 letter [1] , the three shareholders stated:
"We believe it is important to recognize that, until his recent resignation, Herschel Segal, RDI's President, has at all times been an active member of the Board and, through his influence as a director and significant shareholder, he has exerted considerable influence over DTEA's board composition, management and strategic direction. While he is within his rights to express concerns with DTEA's financial performance and seek change, we believe it is disingenuous for him to disregard his role in bringing the company to where it is today and present himself as the only shareholder whose views and experience should be considered in assembling DTEA's Board."
"The Board must continue to represent the interests of all shareholders, not just those of DTEA's largest shareholder. As such, it is not in the best interests of DTEA or its shareholders that Mr. Segal be allowed to reconstitute the Board with his handpicked nominees."
The Choice is Clear. Vote Your YELLOW Proxy Today.
A vote FOR the DAVIDsTEA board nominees is a vote for stability, progress and the promise of a new vision for your company. It is a vote for the future success of DAVIDsTEA, something we all feel passionately about.
Shareholders are encouraged to read the management information circular which details the many reasons to support management's board who will take DAVIDsTEA to the next phase and further the company's success. Shareholders will also learn more about why we believe it would be a great concern to allow Mr. Segal to take control of your company.
It is very important that you act today and cast your vote. Please use the YELLOW form of proxy today to vote FOR DAVIDsTEA's nominees, a slate that will act in the best interests of ALL shareholders.
We appreciate your support as we continue to work on value enhancing initiatives for the benefit of DAVIDsTEA and its shareholders.
The DAVIDsTEA Board of Directors
1 http://services.corporate-ir.net/SEC.Enhanced/SecCapsule.aspx?c=253953&fid=15556644
_____________________________
Reasons to Vote FOR the DAVIDsTEA Director Nominees
1. DAVIDsTEA board and management have a compelling vision for the company; they are focused on executing our strategy for the company's future and are committed to creating value for ALL shareholders
2. DAVIDsTEA's proposed slate of directors have the right mix of skills, experience, perspective and independence to oversee the management of DAVIDsTEA and safeguard the interests of ALL shareholders
Reasons to REJECT Mr. Segal's Proposed Nominees
1. The alternative slate of nominees represents the status quo and fails to put forward a unique vision that addresses the new challenges and opportunities in retail
2. Mr. Segal is attempting to gain control of the board and ultimately the company without having paid a premium to shareholders; we believe this threatens stability at DAVIDsTEA
3. With his longstanding tenure at DAVIDsTEA, the fact that Mr. Segal was actively involved in many of the decisions that have led to the company's current challenges should not be overlooked
4. The individuals on Mr. Segal's slate have been handpicked by Mr. Segal and may not have the best interests of ALL shareholders in mind
5. Mr. Segal is seeking to exert increasing influence on the operations and management of the business, yet he does not have a track record of growing shareholder value in the current retail climate. Le Chateau, a company in which Mr. Segal is the founder, a director, major shareholder and past CEO, has dropped nearly 100% from its all-time high of over CAD$17.00 in July 2007 to a closing price of CAD$0.19 on May 8, 2018
6. Mr. Segal's behaviour including his insistence in being involved in the day to day management of the company suggests that he views the company as a family business rather than a publicly traded company with a variety of other owners and stakeholders
The YELLOW form of proxy is solicited by or on behalf of management of the company and should be read in conjunction with the accompanying management information circular.
Presentation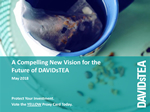 Materials
Letter to Shareholders
Management Circular
Related News Releases
More News
Shareholder Questions
Please contact DAVIDsTEA's Proxy Agent at:
Laurel Hill Advisory Group
Toll Free: 1-877-452-7184
Outside North America:
416-304-0211
Email: assistance@laurelhill.com